Report by Marianne Rogers
Images by Simon Wallace
The 2022 Dogpro plus three sheep Supreme trial was held at the Kendenup Community Grounds, June 17th to 19th.
148 runs were scheduled for the weekend. Each run was set for fifteen minutes with a 30 point ring-off. The ring off made scoring a bit tough for the Novice and Improver dogs.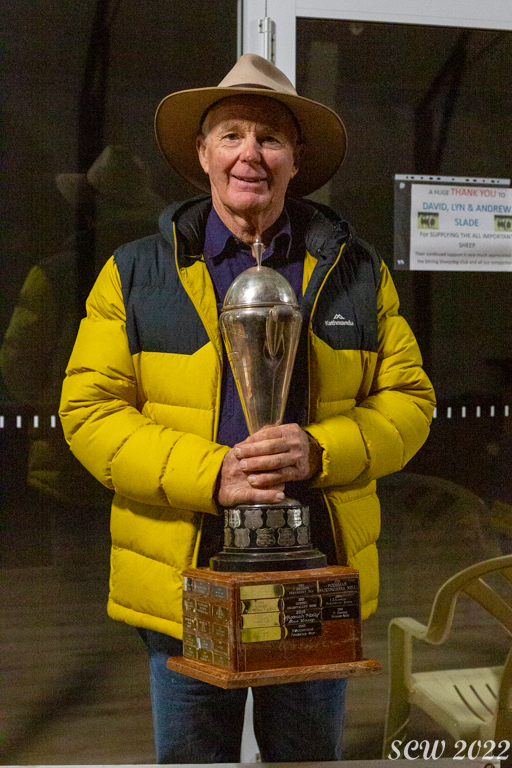 The mainly ewe hoggits, New Zealand composite Greline, were great trial sheep. They stayed together well but sometimes required a strong dog to move them. This was particularly noticeable on the last day when the bridge was wet and the sheep were reluctant to go over it.
It was a rather wet weekend for the trial but luckily much of the rain fell at night leaving those with caravans warm and cosy inside. Sunny spells between showers were eagerly enjoyed.
Stirling club supplied BBQ packs and salads each evening so triallers could gather together on the verandah to socialise.
The Open event was hotley contested over Saturday and Sunday with some great examples of stockmanship on Display.

Dave Lacey with Farnham Will prevailed over Grant Cooke with Grassvalley Blue and Ken Atherton with Ramulam Punch taking out third place.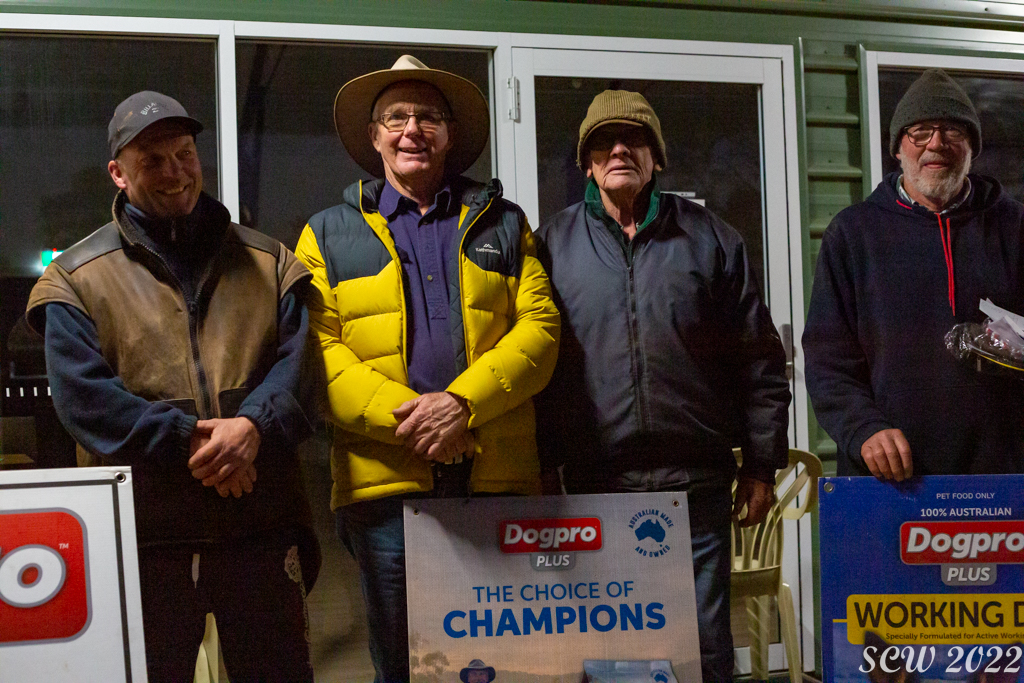 Encourage Results
| | | |
| --- | --- | --- |
| 1 | Terry Martino | Marionvale Bo (K) |
| =2 | Tash Hull | Island Faith (K) |
| =2 | Petra Guse | Mouse |
Novice Results
Judged by Len Morton
| | | | | | |
| --- | --- | --- | --- | --- | --- |
| 1 | Ivan Soloman | Nolans Bart | 76 | 52 | 128 |
| 2 | Per Ostberg | Karridowns Zoftie | 76 | 36 | 112 |
| 3 | Dave Lacey | Akoonah Roxie | 73 | | 73 |
| =4 | Rod Forsyth | Barkervale Clark (K) | 71 | | 71 |
| =4 | Karyn Buller | Boco Louie (K) | 71 | | 71 |
| 6 | Neil Kristiansen | Badginbarra Oscar | 52 | | 52 |
| 7 | Blake Robinson | Ramulam Kick (K) | 32 | | 32 |
Improver Results
Judged by Karyn Buller
| | | | |
| --- | --- | --- | --- |
| 1 | Blake Robinson | Ramulam Kick (K) | 79 |
| 2 | Tara Herbert | Marionvale Tess (K) | 72 |
| 3 | Rod Forsyth | Barkervale Clarke (K) | 71 |
| 4 | Caroline Bell | Bellvue Tag | 68 |
| 5 | Jane Dorrell | Cloverlea Dot | 67 |
| 6 | Rod Forsyth | Kumbark Todd (K) | 59 |
| 7 | Nigel Armstrong | Tumutvalley Roy (K) | 54 |
| 8 | Neil Kristiansen | Badgingarra Maggie | 47 |
| 9 | Rod Forsyth | Grassvalley Hazel | 43 |
| 10 | Per Ostberg | Karridowns Zoftie | 36 |
Open Results
Judged by Rod Forsyth
| | | | | | |
| --- | --- | --- | --- | --- | --- |
| 1 | Dave Lacey | Farnham Will | 92 | 82 | 174 |
| 2 | Grant Cooke | Grassvalley Bluey | 89 | 82 | 171 |
| 3 | Ken Atherton | Ramulam Punch (K) | 89 | 78 | 167 |
| 4 | Simon Leaning | Marionvale Lad | 84 | 82 | 166 |
| 5 | Ivan Solomon | Perangery Trish | 86 | 64 | 150 |
| 6 | Dave Lacey | Brands Hatch Tusker | 82 | 53 | 135 |
| 7 | Peter Gorman | Pendalup Cloudy | 86 | 45 | 131 |
| 8 | Frank Maynard | MGH Jack | 82 | 39 | 121 |
| 9 | Ivan Solomon | Nolans Bart | 88 | 28 | 116 |
| 10 | Nigel Armstrong | Tumutvalley Jude (K) | 89 | 26 | 115 |
| 11 | Frank Maynard | Coshies Buddy | 83 | 20 | 103 |
| 12 | Neil Kristiansen | Badgingarra Magpie | 86 | DQ | 86 |
DQ = Disqualified
Images from the Open Final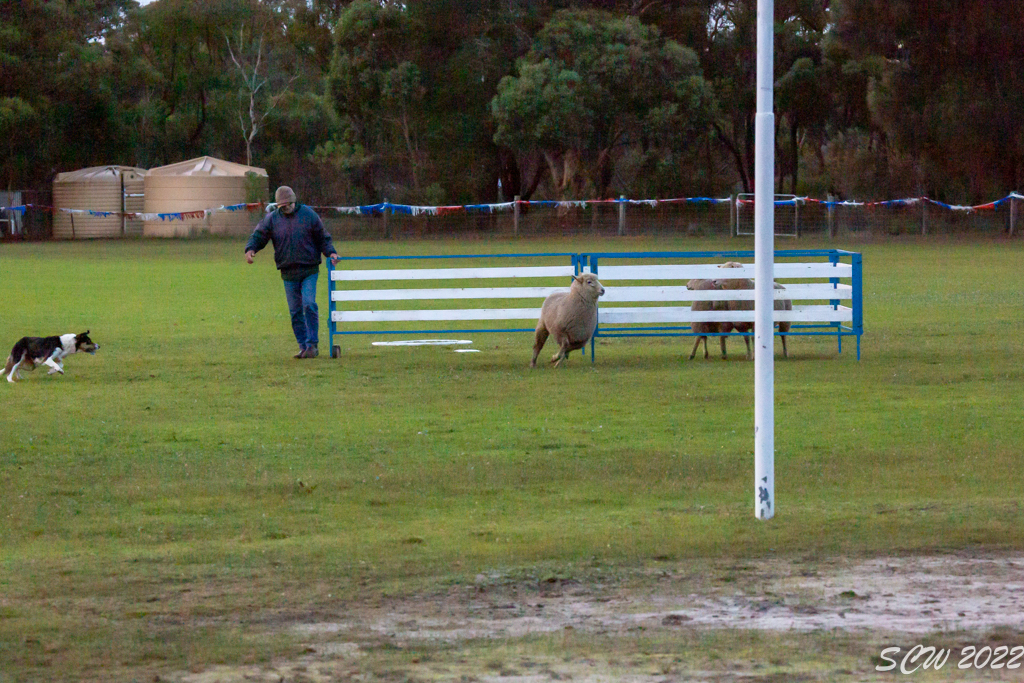 Images from the Encourage