Report by Nan Lloyd
Photo's by Nan Lloyd
The event was held at Binnaburra June 30th to July 4th 2022.
Binnaburra is near Kellerberrin approximately 200kms east of Perth. Gordon and Sarah Curtis have been running Utility trials on their property for about 27 years.
The sheep were young merinos and were very good trial sheep. They could be stubborn at times, but would split and run if pressured too much. Dogs with too much eye struggled a bit to move them.
In the yard they were quite good, but could pile up and jump fences if the dogs upset them.
The weather was quite good, with a couple of very cold nights but warmish days. Sunday morning saw the return of the Binnaburra breeze, a freezing lazy wind that had everyone well rugged up.
There were 28 entries in the Novice Utility, 30 in the novice yard, 33 in the open utility and 31 entries in the Improver/open yard.
Utility scores were out of 115, Novice yard scores out of 65 and Improver/Open scores out of 100.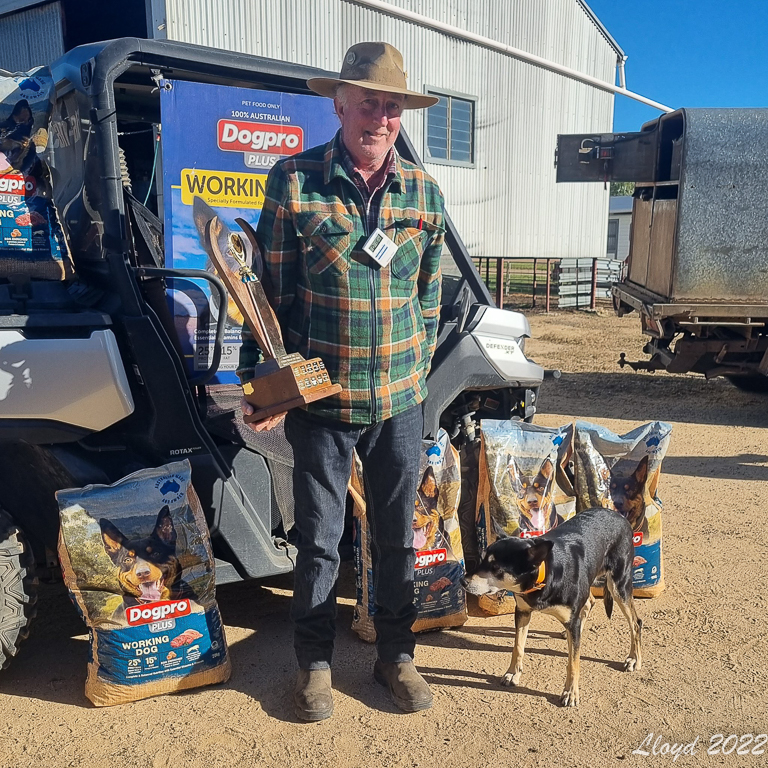 Utility dog of the year was decided at this event and the winner was Ken Atherton and Ramulam Punch, which was fitting as it was Punch's last utility trial. She has won this award many times and has been a wonderful dog for Ken.
Also, open yard Winner Tony Boyle's Boylee Sugar, is 13 years old, which shows you cant keep good dogs down.
Patrons awards for good work went to Jemma Chenik and Neil White.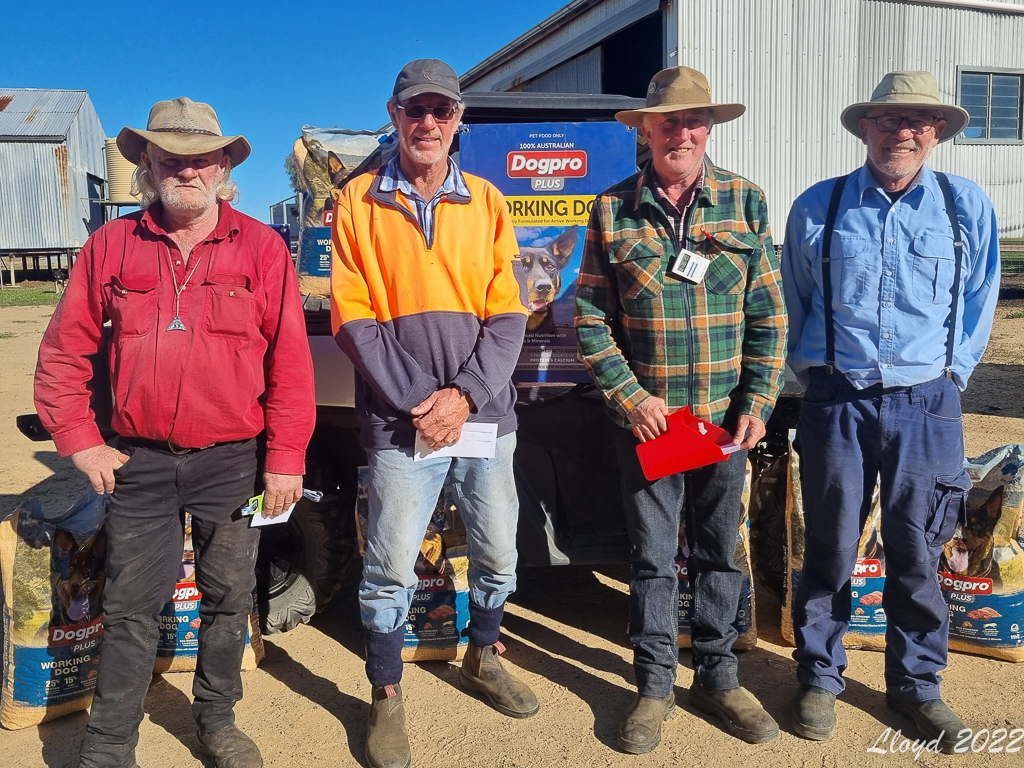 Encourage
| | | |
| --- | --- | --- |
| 1 | Steve Wallace | Gibsons Sweep (K) |
| 2 | Gemma Chenik | Pilbara Daley (K) |
Novice Utility
Judged by Grant Cooke (max points 115)
| | | | |
| --- | --- | --- | --- |
| 1 | Rod Forsyth | Grassvalley Hazel (BC) | 90 |
| 2 | Simon Leaning | Marionvale Di (BC) | 84 |
| 3 | Karyn Buller | Boonining Turbo (K) | 83 |
| 4 | Ken Atherton | Ramulam Charlie (K) | 82 |
Novice Yard
Judged by Grant Cooke (max points 65)
| | | | |
| --- | --- | --- | --- |
| 1 | Rod Forsyth | Grassvalley Hazel (BC) | 60 |
| 2 | Ken Atherton | Ramulam Charlie (K) | 59 |
| =3 | Allan Dunn | Dunns Smallchange (K) | 58 |
| =3 | Gordon Curtis | Binnaburra Buzz (K) | 58 |
Improver Yard
Judged by Nan Lloyd (max points 100)
| | | | | | |
| --- | --- | --- | --- | --- | --- |
| 1 | Ken Atherton | Ramulam Charlie (K) | 91 | 89 | 180 |
| 2 | Karyn Buller | Dunns Chopper (K) | 88 | 88 | 176 |
| 3 | Gordon Curtis | Kumbark Tina (K) | 91 | 80 | 171 |
| 4 | Tony Boyle | Boylee Midget (BC) | 89 | 71 | 160 |
| 5 | Simon Leaning | Marinvale Lad (BC) | 87 | LS | 87 |
LS = Lost Sheep
Open Utility
Judged by Ken Atherton (max points 115)
| | | | | | |
| --- | --- | --- | --- | --- | --- |
| 1 | Gordon Curtis | Kumbark Tina (K) | 99 | 90 | 189 |
| 2 | Ken Atherton | Ramulam Punch (K) | 94 | 92.5 | 186.5 |
| 3 | Simon Leaning | Marionvale Di (BC) | 91 | 83 | 174 |
| 4 | Rod Forsyth | Grassvalley Hazel (BC) | 77 | 91 | 168 |
| 5 | Nigel Armstrong | Yarralonga Scope (K) | 82 | 84 | 166 |
| 6 | Ken Atherton | Ramulam Fella (K) | 81.5 | 83 | 164.5 |
| =7 | Grant Sooke | Grassvalley Bluey (BC) | 95 | 68 | 163 |
| =7 | Tanya De Bijl | Boylee Scout (BC) | 77 | 86 | 163 |
| 9 | Rod Forsyth | Kumbark Tod (K) | 80 | 78 | 158 |
| =10 | Rod Forsyth | Barkervale Clark (K) | 78 | 72 | 150 |
| =10 | Nan Lloyd | Kumbark Lexie (K) | 77 | 73 | 150 |
| 12 | Nan Lloyd | Kumbark Ace (K) | 74 | RTD | 74 |
RTD = Retired
Open Yard
Judged by Nan Lloyd (max points 100)
| | | | | | |
| --- | --- | --- | --- | --- | --- |
| 1 | Tony Boyle | Boylee Sugar (BC) | 92 | 90 | 182 |
| 2 | Gordon Curtis | Kumbark Tina (K) | 91 | 89 | 180 |
| 3 | Ken Atherton | Ramulam Charlie (K) | 91 | 87 | 178 |
| 4 | Allan Dunn | Gogetta Thor (K) | 85 | 92 | 177 |
| 5 | Nigel Armstrong | Tumutvalley Roy (K) | 81 | 84 | 165 |
| 6 | Ken Atherton | Ramulam Punch (K) | 84 | 88 | 172 |
| 7 | Nigel Armstrong | Yarralonga Scope (K) | 81 | 84 | 165 |
| 8 | Simon Leaning | Marionvale Lad (K) | 87 | 77 | 164 |
| 9 | Karyn Buller | Boco Louie (K) | 83 | 80 | 163 |
| 10 | Gordon Curtis | Kumbark Scotty (K) | 81 | 80 | 161 |
| 11 | Tony Boyle | Boylee Midget (BC) | 89 | 65 | 154 |
| 12 | Nan Lloyd | Kumbark Ace (K) | 76.5 | 77.5 | 153 |