Written by Nan Lloyd
Photos by Nan Lloyd and Simon Wallace
Esperance club hosted the third arena trial for 2022 which was held at Pingelly.
Pingelly trials only commenced last year and the club has done a great job setting up a lovely trial ground.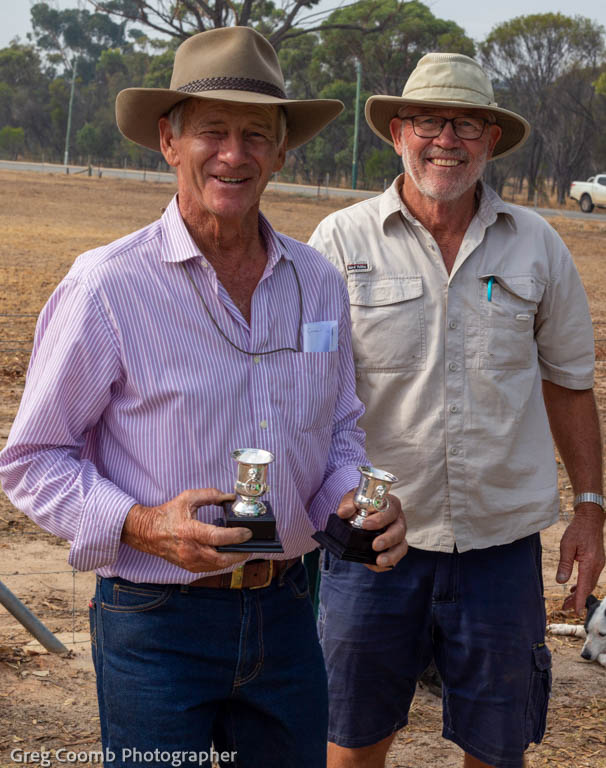 The trial started Thursday lunchtime and sheep were quite good, with most people having a chance to work them. They were a little tricky on the first obstacle and getting around the winding peg was not easy.
On Friday they became a little more challenging as the weather changed a little but, if handled right they were compliant enough.
The open sheep were big three-year-old wethers which worked very well, which was reflected in the scores. Most people were able to have a good go at them.
They were good obstacle sheep, and although a few handlers had them exit the pen before they could get the gate shut, they were happy to comply most of the time. They didn't like being hassled though and needed careful handling at times.
The Open was a closely contested event with only eight points separating the top 14 dogs. In the final result there were only six points separating first to fifth place.
The weather was pleasant enough but did warm up a little on the Saturday and Sunday. There was some rain on the Friday which kept the dust down.
In the novice there were 51 runs with 18 scores, the Improver had 46 runs with 20 scores, and the Open 78 runs and 41 scores.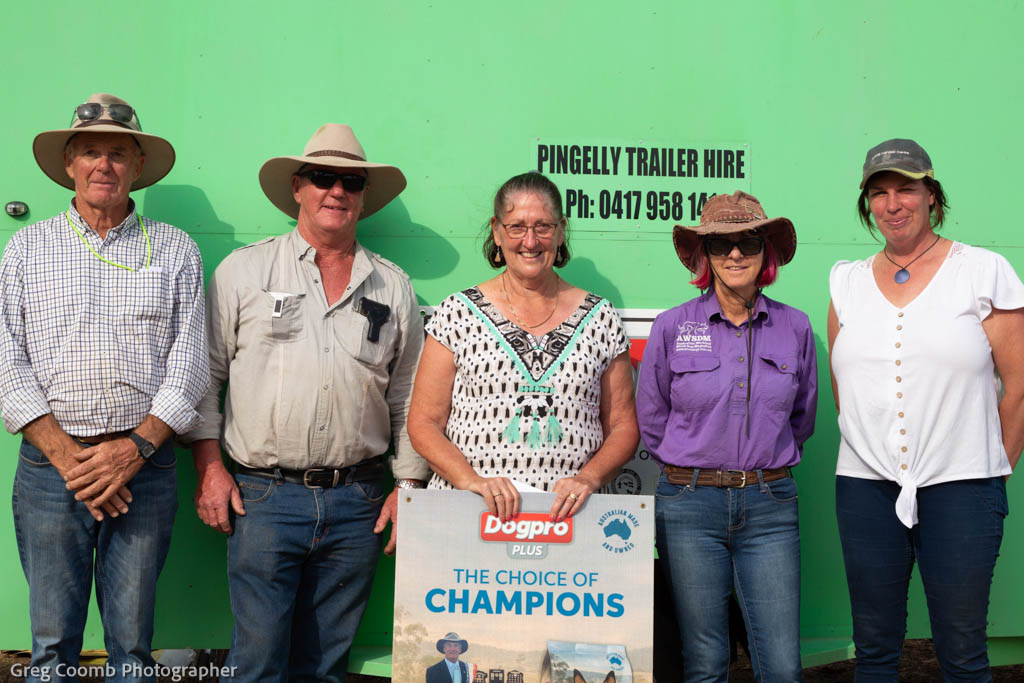 Encourage
Judged by Tara Herbert and Gordon Curtis
| | | |
| --- | --- | --- |
| 1st | Sarah de Bueger | Marionvale Possum (K) |
| | Terry Martino | Marionvale Bo (K) |
| | Cathy Neale | Amarillo Alfie |
| | Petra Guse | Mouse |
| | Anna Jennings | Pilbara Sam (K) |
| | Shelby Harries | Waterlea Tas |
X = Cross, RTD = Retired, DQ = Disqualified, LS = Lost Sheep, SCR = Scratched
Novice
Judged by Yvonne Haynes
| | | | |
| --- | --- | --- | --- |
| 1 | Rose Cassidy | Nolans Shana | 94 |
| 2 | Dave Lacey | Akoonah Roxie | 88 |
| 3 | Neil Kristiansen | Badgingarra Oscar | 81 |
| 4 | Tara Herbert | Marionvale Tess (K) | 76 |
| =5 | Rose Cassidy | Badgingarra Zoe | 75 |
| =5 | Nan Lloyd | Binnaburra Merlin (K) | 75 |
| 7 | Per Ostberg | Korridowns Zoftie | 74 |
| 8 | Simon Leaning | Marionvale Caddy | 73 |
| 9 | Rod Forsyth | Barkervale Clark (K) | 72 |
| 10 | Jan Cornish | Bellview Ted | 71 |
X = Cross, RTD = Retired, DQ = Disqualified, LS = Lost Sheep, SCR = Scratched
Improver
Judged by Tim Foster
| | | | |
| --- | --- | --- | --- |
| 1 | Simon Leaning | Marionvale Di | 89 |
| 2 | Nan Lloyd | Kumbark Ace (K) | 85 |
| 3 | Peter Gorman | Pendalup Lucy | 83 |
| 4 | Dave Lacey | Farnham Will | 82 |
| 5 | Rose Cassidy | Nolans Shana | 81 |
| 6 | Neil Kristiansen | Badgingarra Sir Ben | 79 |
| 7 | Rod Forsyth | Barkervale Clark (K) | 78 |
| 8 | Per Ostberg | Korridowns Zoftie | 75 |
| 9 | Frank Sutherland | Rocky Bindi | 74 |
| 10 | Gordon Curtis | Kumbark Scotty (K) | 73 |
X = Cross, RTD = Retired, DQ = Disqualified, LS = Lost Sheep, SCR = Scratched
Open
Judged by Jenny Atherton
(Top 12 plus ties)
| | | | | | |
| --- | --- | --- | --- | --- | --- |
| 1 | Dave Lacey | Brands Hatch Tusker | 94 | 93 | 187 |
| 2 | Ivan Solomon | Perangerry Trish | 93 | 93 | 186 |
| 3 | Dave Lacey | Akoonah Holly | 93 | 90 | 183 |
| =4 | Grant Cooke | Badgingarra Fly | 95 | 87 | 182 |
| =4 | Nan Lloyd | Kumbark Lexie (K) | 93 | 89 | 182 |
| 6 | Gordon Curtis | Whites Joe (K) | 87 | 92 | 179 |
| 7 | Neil Kristiansen | Badgingarra Magpie | 87 | 82 | 169 |
| 8 | Dave Lacey | Farnham Will | 89 | 75 | 164 |
| 9 | Simon Leaning | Marionvale Andy | 89 | 69 | 158 |
| 10 | Gordon Curtis | Kumbark Scotty (K) | 87 | 69 | 156 |
| 11 | Neil Kristiansen | Badgingarry Sir Ben | 92 | DQ | 92 |
| 12 | Peter Gorman | Coshies Dusty | 91 | DQ | 91 |
| 13 | Peter Gorman | Pendalup Steel | 90 | X | 90 |
| 14 | Ken Atherton | Ramulam Punch (K) | 87 | Rtd | 87 |
X = Cross, RTD = Retired, DQ = Disqualified, LS = Lost Sheep, SCR = Scratched