Written by Marianne Rogers
Photos by Jenny Atherton
Mayanup Trial was very interesting weather wise with different conditions on the three days. Friday was hot and windy, north easterly, reaching a top of 36 degrees. Saturday was so much cooler 16 to 22 degrees it actually felt cold and Sunday the rain came, luckily mainly drizzle. The changing weather did not affect the sheep.
The sheep were Ewe Dohne Hoggits and they were always ready to take off, sometimes seemingly for no reason. Dogs that stayed off them fared better.
Getting the sheep to the left hand side of the casting peg was a challenge for most dogs and the bridge often proved the end point for the sheep's co operation, if you had achieved that to start with!
Possibly there were more retires in the heat on the Friday as running sheep around in the heat especially now they are so valuable is never a good idea.
There were a number of scratchings for various reasons and numbers were fairly low but adequate to keep let out, canteen etc. operating.
Encourage followed the Novice and most of the Improver was completed by end of trialling on Friday.
Encourage was judged by Simon Leaning accompanied by Tara Herbert.
Novice was judged by Des Davies. There were 23 runs with 5 scores.
Improver was judged by Steve Wallace. There were 23 runs with 9 scores and in the final 5 there were 2 scores.
Open was judged by Simon Leaning. There were 40 runs with 17 scores and in the final 12 there were 8 scores.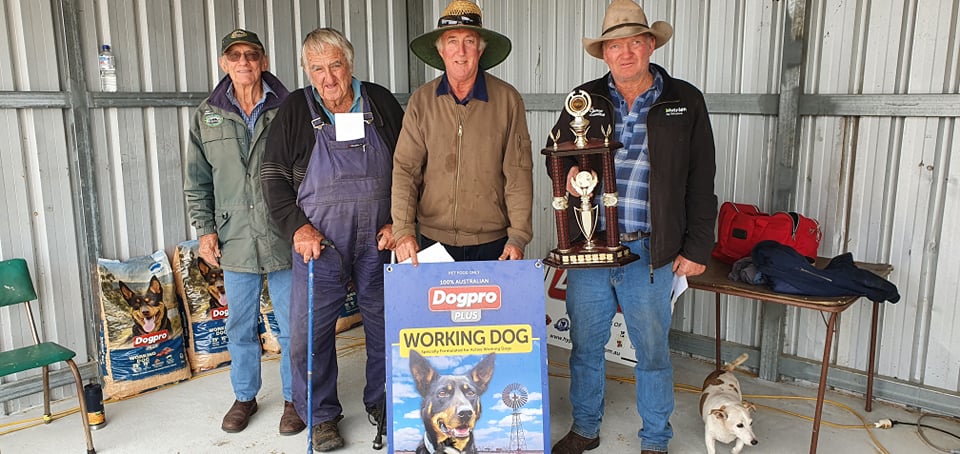 Encourage
Judged by Simon Leaning & Tara Herbert
| | | |
| --- | --- | --- |
| 1 | Shelby Harries | Waterlea Tas |
| 2 | Robert Smith | Boonining Duck (K) |
X = Cross, RTD = Retired, DQ = Disqualified, LS = Lost Sheep, SCR = Scratched
Novice
Judged by Des Davies
| | | | |
| --- | --- | --- | --- |
| 1 | Robert Smith | Boonining Duck (K) | 65 |
| 2 | Ivan Solomon | Nolans Bart | 56 |
| 3 | Ken Atherton | Ramulam Judy (K) | 33 |
| 4 | Ken Atherton | Ramulam Lady (K) | 29 |
| 5 | Tony Boyle | Boylee Whitie | 13 |
X = Cross, RTD = Retired, DQ = Disqualified, LS = Lost Sheep, SCR = Scratched
Improver
Judged by Steve Wallace (Top five run off)
| | | | | | |
| --- | --- | --- | --- | --- | --- |
| 1 | Ken Atherton | Ramulam Charlie (K) | 77 | 48 | 125 |
| 2 | Per Ostberg | Karridowns Zoftie | 33 | 48 | 81 |
| 3 | Dave Lacey | Farnhan Will | 37 | LS | 37 |
| 4 | Robert Smith | Boonining Duck (K) | 26 | LS | 26 |
| 5 | Brad Rose | Bellview Flier | 22 | X | 22 |
| 6 | Des Davies | Marionvale Bella | 16 | | 16 |
| 7 | Rod Forsyth | Grassvalley Hazel (K) | 16 | | 16 |
| 8 | Tara Herbert | Marionvale Tess (K) | 6 | | 6 |
| 9 | Tony Boyle | Boylee Cournel | 5 | | 5 |
X = Cross, RTD = Retired, DQ = Disqualified, LS = Lost Sheep, SCR = Scratched
Open Final
Judged by Simon Leaning
| | | | | | |
| --- | --- | --- | --- | --- | --- |
| 1 | Ken Atherton | Ramulam Charlie (K) | 31 | 78 | 109 |
| 2 | Dave Lacey | Farnam Will | 61 | 39 | 100 |
| 3 | Tanya DeBilj | Boylee Scout | 54 | 35 | 89 |
| 4 | Dave Lacey | Akoonah Holly | 52 | 36 | 88 |
| 5 | Ivan Solomon | Rocky Fran | 48 | 37 | 85 |
| 6 | Ken Atherton | Ramulam Punch (K) | 40 | 44 | 84 |
| 7 | Frank Sutherland | Pendalup Sue | 39 | 38 | 77 |
| 8 | Ken Atherton | Ramulam Fella (K) | 44 | 25 | 69 |
| 9 | Tanya DeBilj | Daleview Wally | 67 | RTD | 67 |
| 10 | Frank Maynard | Akoonah Sherry | 47 | RTD | 47 |
| 11 | Rod Forsyth | Grassvalley Hazel (K) | 47 | SCR | 47 |
| 12 | Corey Rose | Boylee Pick | 39 | X | 39 |
X = Cross, RTD = Retired, DQ = Disqualified, LS = Lost Sheep, SCR = Scratched