Author Nan Lloyd
Images by Nan Lloyd and Karyn Buller
Tarwonga was the venue for the first yard and utility trial of the year, run by the Mayanup club.
Usually we work shorn ewes at the trial but this year we had three year old wethers, with about 10 months wool on them.
They were very big and very stubborn, and it took a lot of persuasion to get them to do anything they didn't want to do.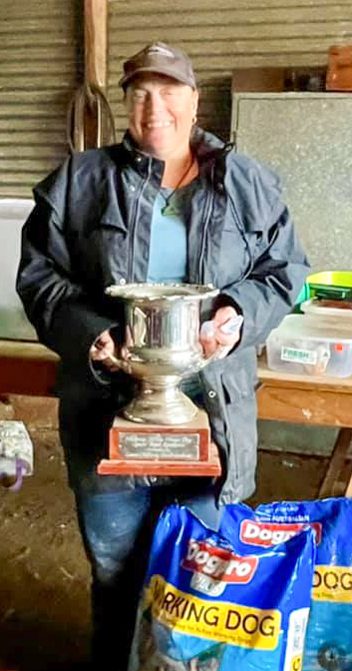 Once the five sheep were picked up and brought down the ground, they had to be put into a small pen outside the main yards. This proved more difficult than expected.
Some people retired not having got them in and some lost their sheep as, the sheep decided that heading over the fence was preferable to going into the pen. Stopping them was not that easy. Some teams actually struggled to get them down the ground at all.
In the yard the big gathers were the hardest part, as the sheep just turned to face the dog and refused to enter.
The sheep flowed for some dogs but for most, it was a battle. They were quite good in the race but stubborn in the draft.
The trial started with dry mild conditions, leading to a fairly warm Saturday. The rain started on Sunday morning and continued for hours, turning the sheep yards from a dust-bowl to a mud bath. Everyone dug out their wet weather gear to cope with the conditions and it became fairly uncomfortable by the end of the trial. It was decided not to run any finals, so those with the top scores in the first round were the winners.
Usually after a Yard and Utility trial finishes, everyone pitches in and helps pull down and pack away the yards and fences. However due to the weather, Mayanup club kindly allowed everyone to head straight home, creating a lot of work for themselves at a later date. The gesture was very much appreciated by all the triallers, as the ground (and the triallers) were waterlogged and everyone was happy to head home.
It was good to have such challenging sheep to work and most people appreciated the challenge. It was a great experience for the dogs.
For the first time WA added an Improver class in the yard, and the open yard was run under Australian Yard Dog Association rules.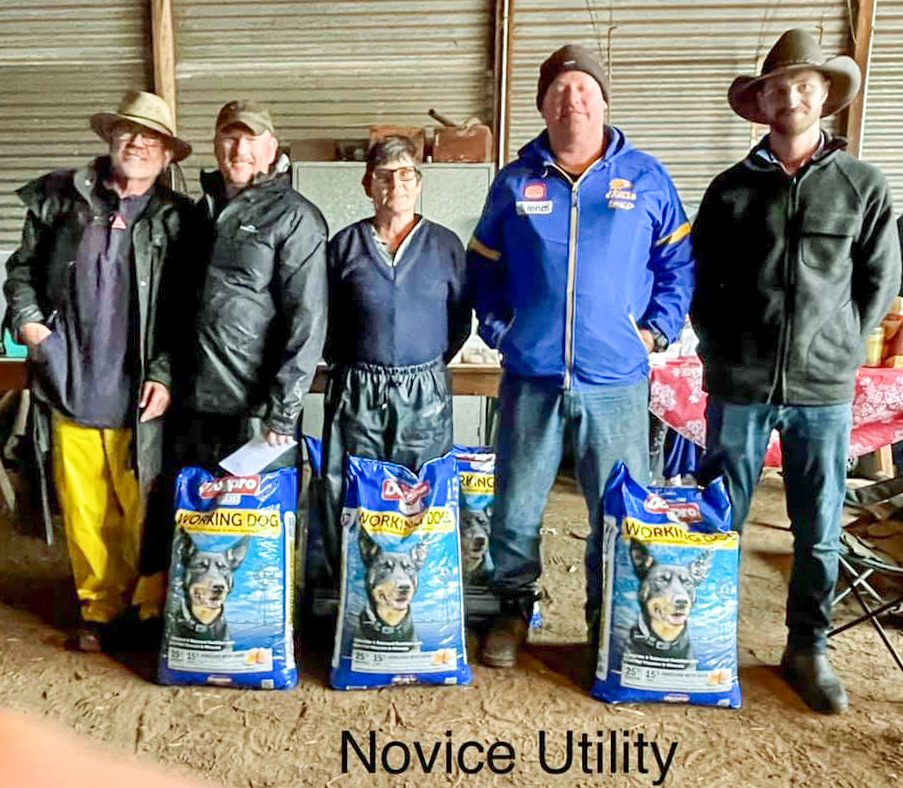 Novice Utility
Judged by Tanya Debijl
Maximum points 130
| | | | |
| --- | --- | --- | --- |
| 1 | Simon Leaning | Marionvale Chip | 75 |
| 2 | Rod Forsyth | Kumbark Tod | 69 |
| =3 | Neil Eastough | Easties Ziggy | 67 |
| =3 | Karyn Buller | Boonining Maisy | 67 |
| 5 | Blake Robinson | Ramulam Kick | 62 |
| =6 | Allan Dunn | GoGetta Thor | 59 |
| =6 | Gordon Curtis | Kumbark Scotty | 59 |
Novice Yard
Judged by Nigel Armstrong
Maximum points 70
| | | | |
| --- | --- | --- | --- |
| 1 | Blake Robinson | Nap | 56 |
| 2 | Gordon Curtis | Kumbark Tina | 52 |
| 3 | Rod Forsyth | Kumbark Tod | 51 |
| 4 | Neil Eastough | Easties Bones | 49 |
| 5 | Blake Robinson | Ramulam Kick | 44 |
| 6 | Gordon Curtis | Kumbark Indi | 43 |
Improver Yard
Judged by Gordon Curtis
Maximum points 100
| | | | | | |
| --- | --- | --- | --- | --- | --- |
| 1 | Tanya Debijl | Daleview Wally | 83 | 88 | 171 |
| 2 | Simon Leaning | Binge | 83 | 77 | 160 |
| 3 | Simon Leaning | Marionvale Lad | | | 82 |
| 4 | Tony Boyle | Boylee Midget | | | 73 |
| 5 | Blake Robinson | Ramulam Kick | | | 70 |
| 6 | Blake Robinson | Nap | | | 69 |
Open Yard
Judged by Gordon Curtis
Maximum points 100
| | | | |
| --- | --- | --- | --- |
| 1 | Nigel Armstrong | Yarralonga Scope | 87 |
| 2 | Nan Lloyd | Kumbark Ace | 86 |
| 3 | Simon Leaning | Marionvale Lad | 82 |
| 4 | Tony Boyle | Boylee Midget | 73 |
| =5 | Nigel Armstrong | Tumutvalley Roy | 70 |
| =5 | Blake Robinson | Ramulam Kick | 70 |
| =7 | Jason Crockford | Eulooka Belle | 69 |
| =7 | Blake Robinson | Nap | 69 |
| =9 | Jason Crockford | Wyndora Strife | 68 |
| =9 | Rod Forsyth | Kumbark Tod | 68 |
| 11 | Jim Harradine | Dryandra Bridie | 67 |
| 12 | Allan Dunn | GoGetta Thor | 65 |
Open Utility
Judged by Simon Leaning
Maximum points 130
| | | | |
| --- | --- | --- | --- |
| 1 | Tanya Debijl | Daleview Wally | 86 |
| 2 | Blake Robinson | Ramulam Kick | 80 |
| 3 | Nigel Armstrong | Tumutvalley Roy | 74 |
| 4 | Nigel Armstrong | Yarralonga Scope | 68 |
| 5 | Simon Leaning | Binge | 66.5 |
| 6 | Neil Eastough | Easties Bones | 64 |
| 7 | Gordon Curtis | Kumbark Scotty | 61 |
| 8 | Neil Eastough | Easties Ziggy | 58 |
| =9 | Nan Lloyd | Whites Ree | 57 |
| =9 | Karyn Buller | Boco Louie | 57 |
| 11 | Rod Forsyth | Kumbark Tod | 56 |
| 12 | Rod Forsyth | Barkervale Clark | 55 |
---