Author Nan Lloyd
Images by Nan Lloyd and Simon Wallace
This was Pingelly's second arena trial for the year, hosted by the Esperence club.
Pingelly can be very chilly. The first day of the trial was windy and cold, and was followed by a a mild frost that night. The rest of the trial was cool but quite bearable although we did not see much sunshine the whole weekend. It started to rain a little towards the end of the open final, but held off until we were packed up and finished. It has been a very wet year, with waterlogged paddocks and impassable roads. One trialler could not get his bus off his property, and they managed to bog two vehicles at the rear of the trial grounds, one of them was a large tractor. One competitor could not attend as a tree fell on her caravan in a storm. After many dry years though no-one was complaining.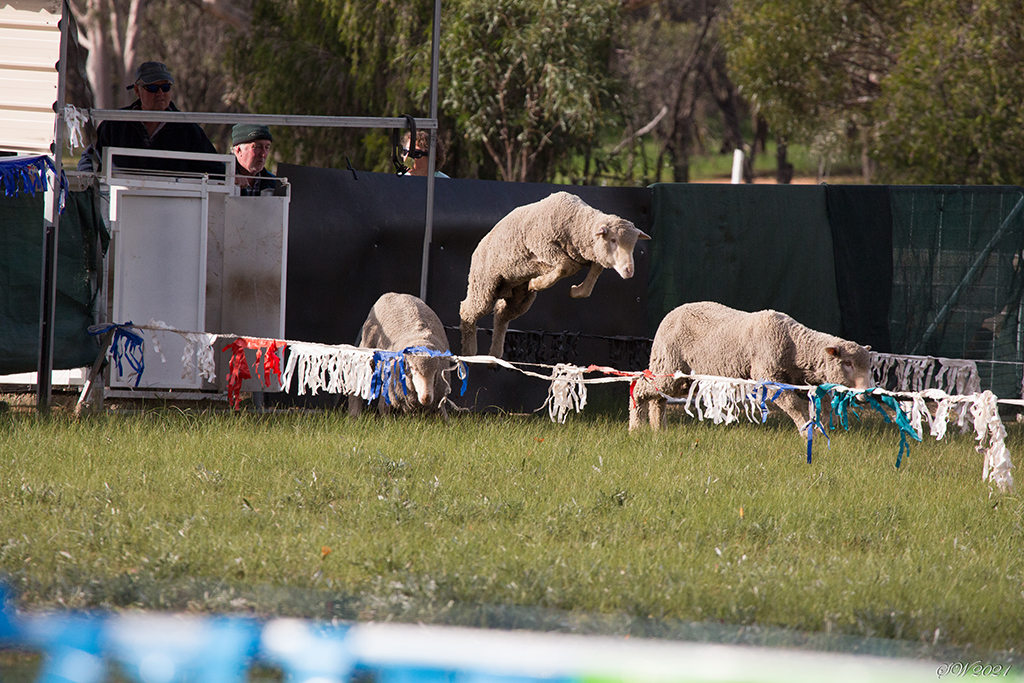 The sheep were something else. They were very difficult to pickup from the top of the ground, racing madly along the fence into the corner and sometimes over the fence. There were many crosses as the sheep were fast and could split if upset. The calmer smoother dogs fared a little better, the sheep did not like being pressured.
The sheep for novice and Improver where the same, and while they were reasonably workable on the first day they got progressively worse as the weekend wore on.
The open sheep were a different mob and were even more difficult. These also had a tendency to take on some dogs, particularly dogs that had too much breakout, allowing the sheep to take ground. Some sheep just stood and faced the dog at the obstacle, refusing to enter and splitting if pressured too much.
It was fun for the spectators, not so much for the competitors though.
At least we had the Pingelly Recreation and Cultural centre to have an evening meal and drink to find solace. Meals were lovely and the building is beautiful.
Novice had 38 runs with 17 scores. Improver had 42 runs and 11 scores. Open had 52 runs with 21 scores.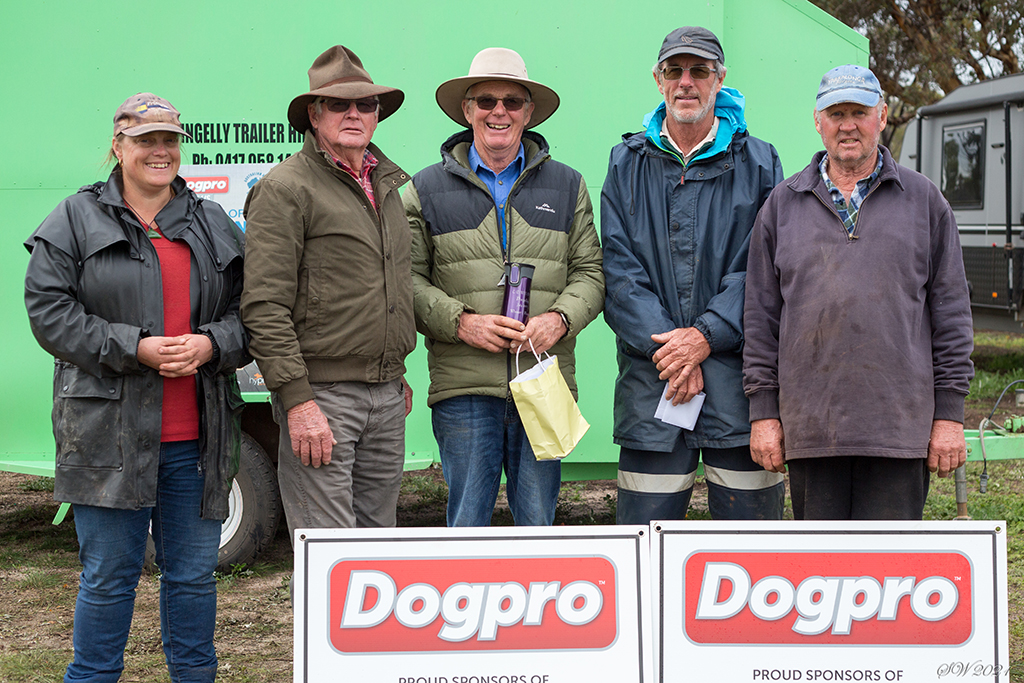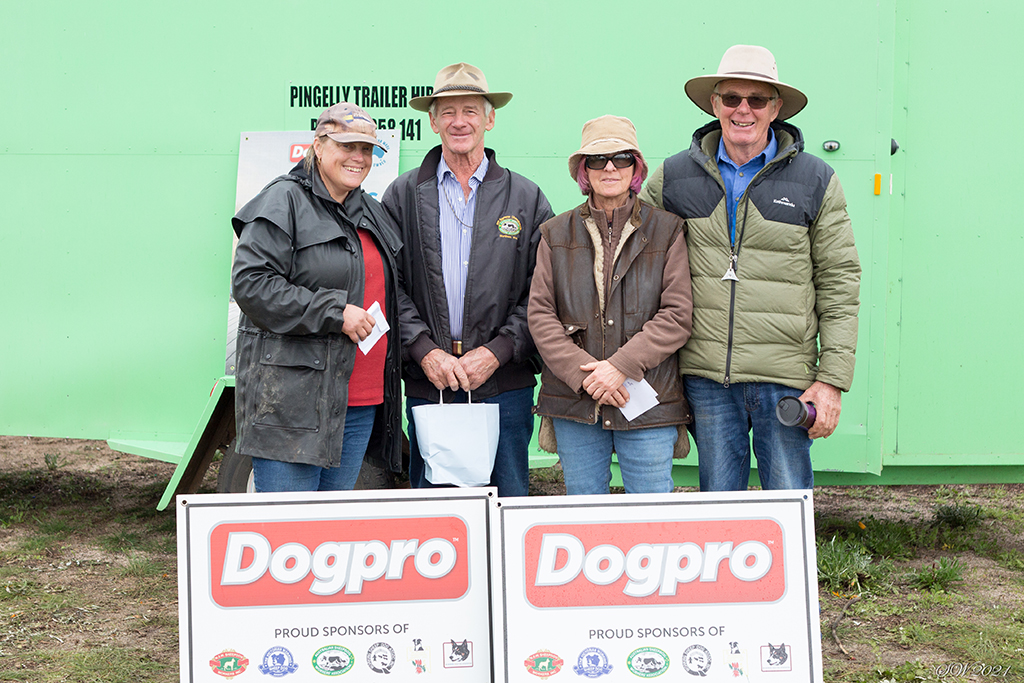 Encourage Placings
Judged by Frank Sutherland
| | | |
| --- | --- | --- |
| 1 | Nic Ford | Dryandra Thunderstruck |
| 2 | Rose Cassidy | Nolans Shona |
| 3 | Sarah De Beuger | Marionvale Possum (Kelpie) |
| 4 | Tara Herbert | Marionvale Tess (Kelpie) |
| 5 | Lilly Jennings | Marionvale Andy |
Novice Placings
Judged by Yvonne Haynes
| | | | |
| --- | --- | --- | --- |
| 1 | Dave Lacey | Farnham Will | 84 |
| 2 | Gordon Curtis | Kumbark Scotty (Kelpie) | 79 |
| 3 | Len Morton | Perengery Maude | 72 |
| 4 | Tanya DeBijl | Daleview Wally | 69 |
| 5 | Nigel Armstrong | Tumutvalley Roy | 66 |
| 6 | Steve Wallace | Gibsons Sweep | 65 |
| 7 | Tanya DeBijl | Jarrah (Kelpie) | 61 |
| 8 | Nan Lloyd | Kumbark Lexie (Kelpie) | 59 |
| 9 | Ivan Solomon | Nolans Bart | 50 |
| 10 | Pete Doherty | Ramulam Sixpence (Kelpie) | 49 |
Improver Placings
Judged by Gibb MacDonald
| | | | |
| --- | --- | --- | --- |
| 1 | Steve Wallace | Gibsons Sweep | 70 |
| 2 | Ivan Solomon | Nolans Bart | 64 |
| 3 | Caroline Bell | Gibsons Smokey | 57 |
| 4 | Andrew Gorton | Olboa May | 56 |
| 5 | Frank Sutherland | Rocky Nikki | 53 |
| 6 | Gordon Curtis | Kumbark Scotty (Kelpie) | 49 |
| 7 | Nigel Armstrong | Tumutvalley Roy (Kelpie) | 46 |
| 8 | Rick Janitz | Badgingarra Izzy | 42 |
| =9 | Ken Atherton | Ramulam Charlie (Kelpie) | 33 |
| =9 | Rose Cassidy | Nolans Shana | 33 |
Open Placings
Judged by Gordon Curtis
| | | | | | |
| --- | --- | --- | --- | --- | --- |
| 1 | Peter Gorman | Coshies Dusty | 75 | 84 | 159 |
| =2 | Nan Lloyd | Kumbark Lexie (Kelpie) | 80 | 77 | 157 |
| =2 | Tanya DeBijl | Boylee Scout | 80 | 77 | 157 |
| =4 | Dave Lacey | Akoonah Blondie | 74 | 48 | 122 |
| =4 | Frank Maynard | Akoonah Sherry | 64 | 58 | 122 |
| 6 | Andrew Gorton | Olboa May | 82 | 34 | 116 |
| 7 | Tanya DeBijl | Daleview Wally | 63 | 23 | 86 |
| 8 | Simon Leaning | Marionvale Di | 81 | X | 81 |
| 9 | Ivan Solomon | Perengery Fran | 79 | LS | 79 |
| 10 | Steve Wallace | Gibsons Sweep | 78 | LS | 78 |
| 11 | Dave Lacey | Akoonah Lady | 73 | LS | 73 |
| 12 | Ivan Solomon | Perengery Trish | 58 | RET | 58 |