Author Nan Lloyd
Images by Nan Lloyd and Simon Wallace
The Pingelly recreation grounds were the venue for the inaugural Pingelly arena trial, run by the Esperance Sheepdog Club.
The recreation center was built in 2018 and has won many awards, including the prestigious George Temple Poole award in 2020. Built entirely of timber it cost almost 10 million to build.
It is the largest timber building in WA since WWII and the largest civic building since 1920. It is used for meetings, sporting events and is open for all meals. Many of the competitors were happy to have a great place to eat and meet up after a tough days trialling.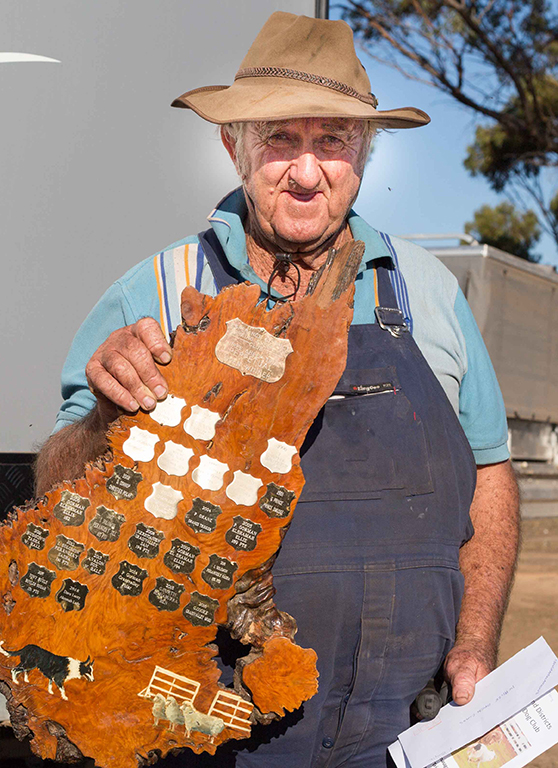 The trial was run in conjunction with the Pingelly Shearing competition as well as a market day.

The sheep for the novice and improver event were hoggets recently shorn and were difficult to settle. With a tendency to head to the bottom left side of the ground they took some holding onto. Competitors who managed to get them down the ground did better, but at times they made a run for it again as they rounded the winding pegs.

The grounds were dry and dusty which made for great photos but sometimes dogs and sheep disappeared entirely in a cloud. They were however quite good obstacle sheep but the pen was not always easy.

The open sheep were similar age, but with some wool on so were a little better but still not easy. These were a little heavier and more difficult to move so some competitors struggled to get them down the ground.

There was a tie for first in the open. After the runoff the winner was Tony Boyle with Midget.
In the novice there were 13 scores from 50 runs.
In the Imp there were 11 scores from 57 runs
In the open there were 25 scores from 82 runs.
Novice Placings
Judged by Karyn Buller
| | | | |
| --- | --- | --- | --- |
| 1 | Simon Leaning | Marionvale Di | 78 |
| 2 | Peter Gorman | Pendalup Niki | 77 |
| =3 | Rick Janitz | Ramulam Bee (K) | 75 |
| =3 | Peter Gorman | Badgingarra Sir Ben | 75 |
| 5 | Tony Boyle | Boylee Major | 70 |
| 6 | Ken Atherton | Ramulam Fella (K) | 69 |
| 7 | Rick Janitz | Badgingarra Izzy | 67 |
| 8 | Nigel Armstrong | Tumut Valley Roy (K) | 57 |
| 9 | Ken Atherton | Ramulam Charlie (K) | 52 |
| 10 | Rose Cassidy | Nolan's Sharna | 50 |
Improver Placings
Judged by Rick Janitz
| | | | |
| --- | --- | --- | --- |
| 1 | Dave Lacey | MGH Jack | 80 |
| 2 | Karyn Buller | Boonining Maisy (K) | 79 |
| 3 | Phil Dorrell | Jandoree Shrek | 78 |
| 4 | Simon Leaning | Marionvale Di | 76 |
| 5 | Stephen Wallace | Gibson's Sweep | 69 |
| 6 | Jenny Palm | Brindabella Domini | 68 |
| 7 | Peter Gorman | Pendalup Niki | 64 |
| 8 | Ken Atherton | Ramulam Fella (K) | 60 |
| 9 | Tony Boyle | Boylee Chillie | 59 |
| 10 | Rose Cassidy | Nolan's Shana | 56 |
Open Finals
Judged by Ken Atherton
| | | | | | | | |
| --- | --- | --- | --- | --- | --- | --- | --- |
| 1 | Tony Boyle | Boylee Midget | 79 | 88 | 167 | 76 | 243 |
| 2 | Dave Lacey | Akoonah Blondie | 82 | 85 | 167 | Rtd | 167 |
| 3 | Dave Lacey | Akoonah Holly | 82 | 79 | 161 | | |
| 4 | Dave Lacey | Akoonah Lady | 82 | 78 | 160 | | |
| 5 | Tony Boyle | Boylee Sugar | 79 | 74 | 153 | | |
| 6 | Simon Leaning | Marionvale Lad | 92 | 42 | 134 | | |
| 7 | Frank Maynard | Coshies Buddy | 65 | 65 | 130 | | |
| 8 | Dave Lacey | Brands Hatch Tusker | 68 | 61 | 129 | | |
| =9 | Tanya Debijl | Ramulam Secret (K) | 70 | 49 | 119 | | |
| =9 | Peter Gorman | Pendalup Cloudy | 66 | 53 | 119 | | |
| 11 | Jan Cornish | Bellview Ted | 66 | 47 | 113 | | |
| 12 | Dave Lacey | Summerville Katie | 72 | X | 72 | | |