Author Simon Wallace
Images by Nan Lloyd
The Dowerin Field Days were back in full swing this year, after a break caused by Covid restrictions in 2020, with record crowds attending over the two days.
The young sheep supplied by the Emmott family proved to be a good challenge for the dogs. The dogs which gave them a little space had the better results.
The weather was mostly fine with some wind over the two days.
Handlers had to deal with the challenges of Helicopters flying overhead, Tractor pulls next to the arena and Monster trucks giving joy-rides, stirring up the dust.
In the Novice there were 11 scores from 28 runs, Improver 9 scores from 23 runs and the Open had 16 scores from 38 runs.
Due to time constraints a run-off was not held for the Open event.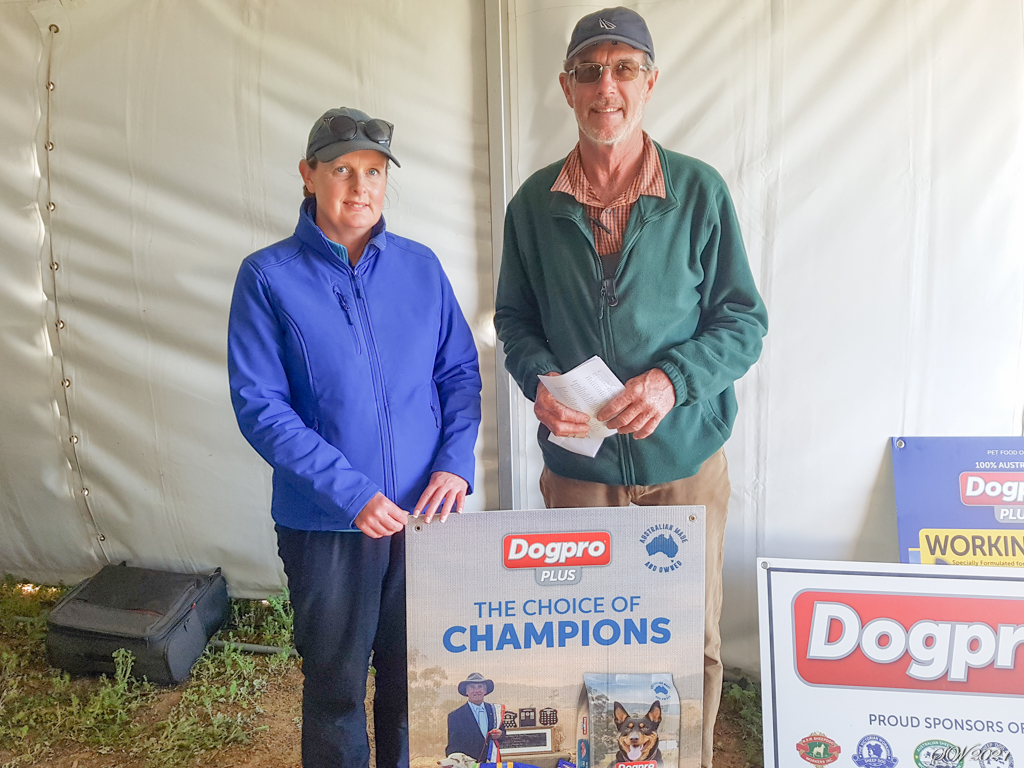 Encourage Results
Judged by Des Davies
| | | |
| --- | --- | --- |
| =1 | Tara Herbert | Marionvale Tess (K) |
| =1 | Nic Ford | Dryandra Thunderstruck |
Novice Results
Judged by Len Morton
| | | | |
| --- | --- | --- | --- |
| 1 | Marianne Rogers | OK Anwenelle | 76 |
| 2 | Rod Forsyth | Kumbark Todd (K) | 59 |
| 3 | Jenny Nolan | Nolans Nitro | 58 |
| 4 | Jenny Nolan | Nolans Jasper | 55 |
| 5 | Rose Cassidy | Nolans Shana | 42 |
| 6 | Gordon Curtis | Kumbark Scotty (K) | 39 |
| 7 | Des Davies | Marionvale Bella | 35 |
| 8 | Jan Cornish | Bellview Ted | 32 |
| 9 | Nan Lloyd | Binnaburra Merlin (K) | 30 |
| 10 | Nic Ford | Dryandra Thunderswtruck | 23 |
Improver Results
Judged by Gibb MacDonald
| | | | |
| --- | --- | --- | --- |
| 1 | Simon Leaning | Marionvale Di | 71 |
| 2 | Peter Gorman | Pendalup Brook | 66 |
| 3 | Rod Forsyth | Grassvalley Hazel | 61 |
| =4 | Len Morton | Perangery Maudie | 53 |
| =4 | Tara Herbert | Marionvale Tess (K) | 53 |
| 6 | Rose Cassidy | Nolans Shana | 45 |
| 7 | Ivan Soloman | Nolans Bart | 43 |
| 8 | Nan Lloyd | Kumbark Ace (K) | 39 |
| 9 | Nic Ford | Dryandra Thunderstruck | 16 |
Open Results
Judged by Jenny Nolan (No run-off)
| | | | |
| --- | --- | --- | --- |
| 1 | Dave Lacey | Brands Hatch Tusker | 90 |
| 2 | Simon Leaning | Marionvale Andy | 80 |
| 3 | Ivan Soloman | Perangery Trish | 79 |
| 4 | Dave Lacey | MGH Jack | 76 |
| 5 | Peter Gorman | Coshies Dusty | 73 |
| 6 | Peter Gorman | Pendalup Cloudy | 67 |
| 7 | Marianne Rogers | OK Anwenelle | 65 |
| 8 | Nan Lloyd | Kumbark Lexie (K) | 63 |
| 9 | Gordon Curtis | Kumbark Scotty (K) | 60 |
| 10 | Simon Leaning | Marionvale Di | 59 |
| 11 | Frank Maynard | Coshies Buddy | 53 |
| 12 | Ivan Soloman | Perangery Di | 52 |