Author Marianne Rogers
Images by Simon Wallace
The weather could not have been more perfect for a sheep dog trial.
Crisp cool mornings and nights with mild sunny days and little wind. The small team of workers were kept very busy running the trial and still managed to run a canteen to supply food and drinks.
The sheep for the Novice and Improver were mainly ewe hogget Merinos which were supplied and carted by Billandri Poll Merino Stud. The sheep for the Open were 14 month ewe Dohnes with 7 months wool, supplied very fortunately by Dorrell enterprises at the last moment due to high water preventing access to the sheep that should have been available.
In the Novice there were 11 scores out of 27 runs, in Improver 7 scores out of 30 and in the Open 20 scores out of 45. Both lots of sheep were very even and gave everyone a fair go but they were still challenging.
It was hard work to achieve a good score. There was no ring off in the Novice and Improver but a 50 point ring off in the open.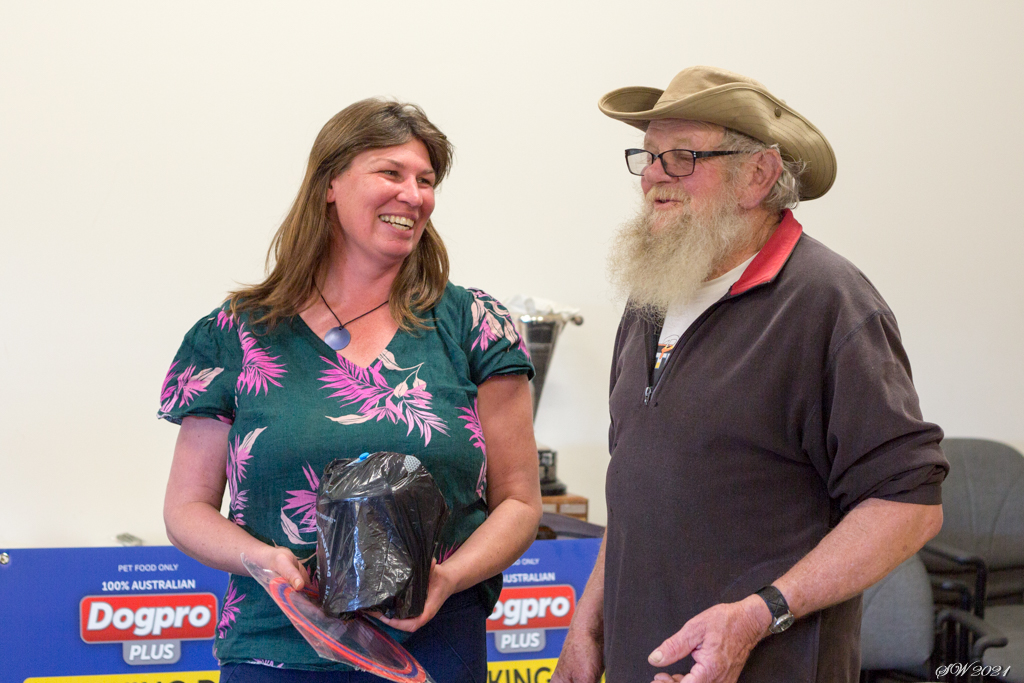 Encourage Placings
Judged by Simon Wallace
| | | |
| --- | --- | --- |
| 1 | Tara Herbert | Marionvale Tess |
Novice Placings
Judged by Tim Foster
| | | | |
| --- | --- | --- | --- |
| 1 | Len Morton | Perangery Maudie | 86 |
| 2 | Rod Forsyth | Barkervale Clark (K) | 73 |
| 3 | Ken Atherton | Ramulam Charlie (K) | 65 |
| 4 | Jenny Whitelock | Boylee Talent | 63 |
| 5 | Jenny Whitelock | Jensown Shamrock | 61 |
| 6 | Rick Janitz | Ramulam Bee (K) | 59 |
| 7 | Rod Forsyth | Kumbark Todd (K) | 58 |
| 8 | Tony Boyle | Boylee Pickles | 52 |
| 9 | Tony Boyle | Boylee Whitie | 51 |
| 10 | Simon Wallace | O'Kanes Susie Q | 45 |
Improver Placings
Judged by Rod Forsyth
| | | | |
| --- | --- | --- | --- |
| 1 | Andrew Gorton | Olboa May | 90 |
| 2 | Ken Atherton | Ramulam Charlie (K) | 84 |
| 3 | Jane Dorrell | Cloverlea Dot | 80 |
| 4 | Tony Boyle | Boylee Chillie | 64 |
| 5 | Neil Eastough | Linthorpe Freckle | 63 |
| =6 | Simon Wallace | O'Kanes Susie Q | 60 |
| =6 | Ken Atherton | Ramulam Fella (K) | 60 |
Open Placings
Judged by Simon Leaning
| | | | | | |
| --- | --- | --- | --- | --- | --- |
| 1 | Frank Sutherland | Pendalup Sue | 67 | 81 | 148 |
| 2 | Peter Gorman | Coshies Dusty | 77 | 70 | 147 |
| 3 | Dave Lacey | Akoonah Lady | 75 | 58 | 133 |
| 4 | Dave Lacey | Akoonah Holly | 59 | 73 | 132 |
| 5 | Peter Gorman | Pendalup Cloudy | 71 | 59 | 130 |
| 6 | Tony Boyle | Boylee Sugar | 48 | 73 | 121 |
| 7 | Jane Dorrell | Perangery Buster | 59 | 55 | 114 |
| 8 | Ken Atherton | Ramulam Punch (K) | 57 | 56 | 113 |
| 9 | Dave Lacey | Akoonah Blondie | 47 | 62 | 109 |
| 10 | Tony Boyle | Boylee Midget | 47 | 61 | 108 |
| 11 | Steve Wallace | Gibsons Sweep | 55 | Ret | 55 |
| 12 | Corey Rose | Blackbrook Phoebe | 44 | Ret | 44 |