Written by Nan Lloyd
Photos by by Karyn Buller and Simon Wallace
The weather was near perfect for this years Corrigin yard trial, chilly morning and a partly cloudy day with little wind. After having to cancel last year it was good to be able to hold the trial again this year.
Being only a one day trial, runs were limited but most people had at least 4 runs. Only an open yard final was run, in order to finish in time.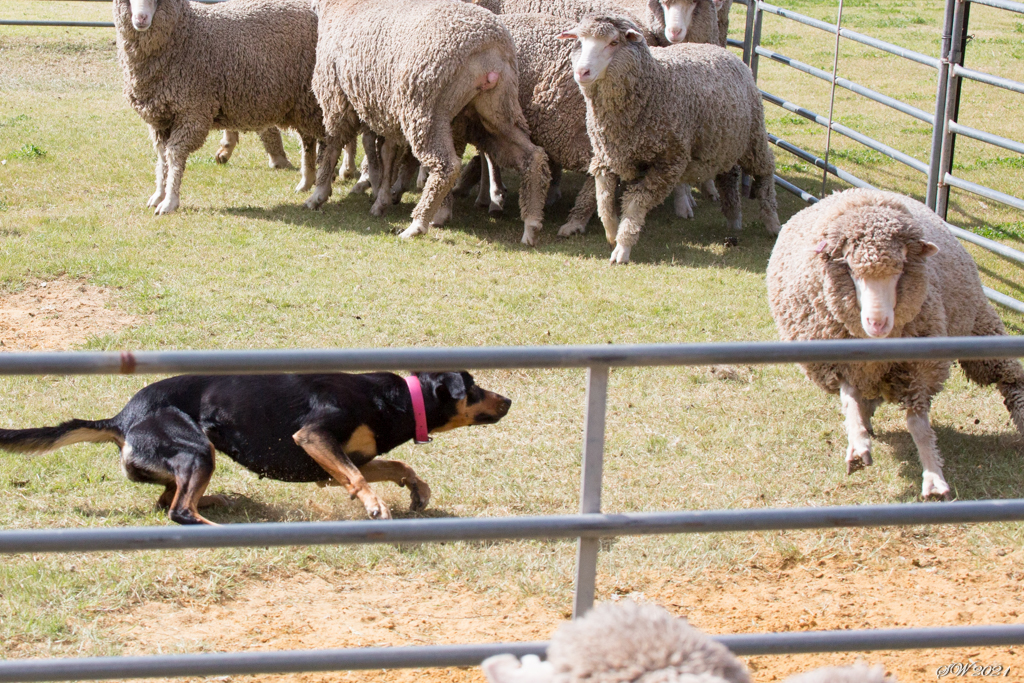 The sheep were young woolly Merinos, and could be flighty as well as stubborn. In the earlier runs they were inclined to ping off the fence a little and it was a challenge to get them into the first yard. However, they settled after they had been around a few times. In the afternoon though they became quite stubborn and some people struggled to get a leader to enter the race or the first yard. Overall though, they were quite workable and the experienced dogs got high scores.
It was a relaxing well run event run in conjunction with the Corrigin Show and provided some great entertainment for the spectators.

Many thanks to the sponsors, Country Wide Insurance, Rabo Bank Narrogin Branch, Wagin Grainfeeds, and the Corrigin Agricultural Society and all their wonderful helpful volunteers. Special thanks to Mike Ferrari for supplying and carting sheep as well as organizing the loan of sheep yards, ramps etc.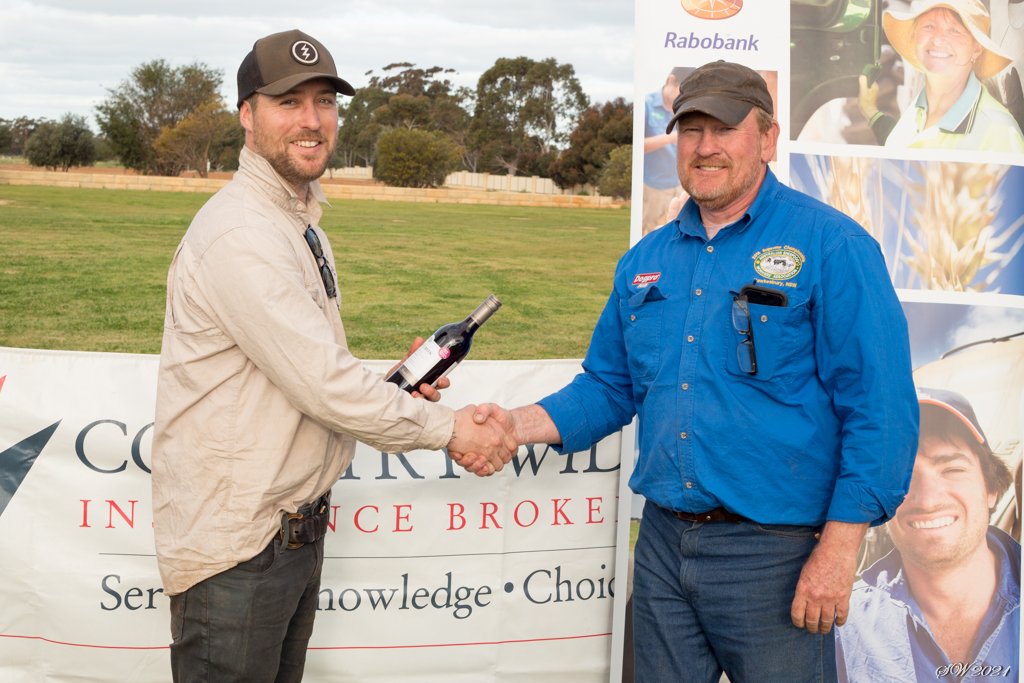 Encourage
Judged by Karyn Buller
| | | |
| --- | --- | --- |
| 1 | Ben Wheatley | Fred (K) |
| 2 | Tara Herbert | Marionvale Tess (K) |
Novice
Judged by Nigel Armstrong
Score out of 60
| | | | |
| --- | --- | --- | --- |
| 1 | Karyn Buller | Boco Louie (Mork) (K) | 55 |
| 2 | Simon Leaning | Marionvale Chip (K) | 53 |
| 3 | Rod Forsyth | Kumbark Tod (K) | 50 |
| 4 | Ken Ahterton | Ramulam Charlie (K) | 46 |
| 5 | Phil Barker | Barkervale Ringo | 45 |
Improver
Judged by Simon Leaning
Scores our of 100
| | | | |
| --- | --- | --- | --- |
| 1 | Rod Forsyth | Kumbark Tod (K) | 91 |
| 2 | Ken Atherton | Ramulam Charlie (K) | 89 |
| 3 | Simon Leaning | Marionvale Lad (BC) | 78 |
| 4 | Neil Whyte | Barkervale Cobber (K) | 77 |
| 5 | Nan Lloyd | Kumbark Lexie (K) | 72 |
Open
Judged by Simon Leaning
Scores out of 100
| | | | | | |
| --- | --- | --- | --- | --- | --- |
| 1 | Nigel Armstrong | Yarralonga Scope (K) | 79 | 94 | 173 |
| 2 | Nan Lloyd | Kumbark Ace (K) | 81 | 91 | 172 |
| 3 | Nigel Armstrong | Tmuttvalley Jude (K) | 78 | 92 | 170 |
| 4 | Tanya DeBijl | Jarrah (K) | 72 | 82 | 154 |
| 5 | Allan Dunn | Gogetta Thor | 70 | 82 | 152 |
| 6 | Neil Whyte | Barkervale Cobber | 77 | 63 | 140 |