Author Nan Lloyd
Images by Nan Lloyd and Simon Wallace
Ballidu is a small town in the eastern wheatbelt 220 km north east of Perth. The trial was run by the Northern District Sheepdog Association.
The sheep were 16 month old woolly wethers, supplied and delivered by Malcolm Sutherland.
Trialling commenced at 1pm Thursday. The weather was fairly mild but strong winds caused a few issues. The sheep were workable though, and there were some reasonable scores. They were happy to go into the obstacles and were quite settled.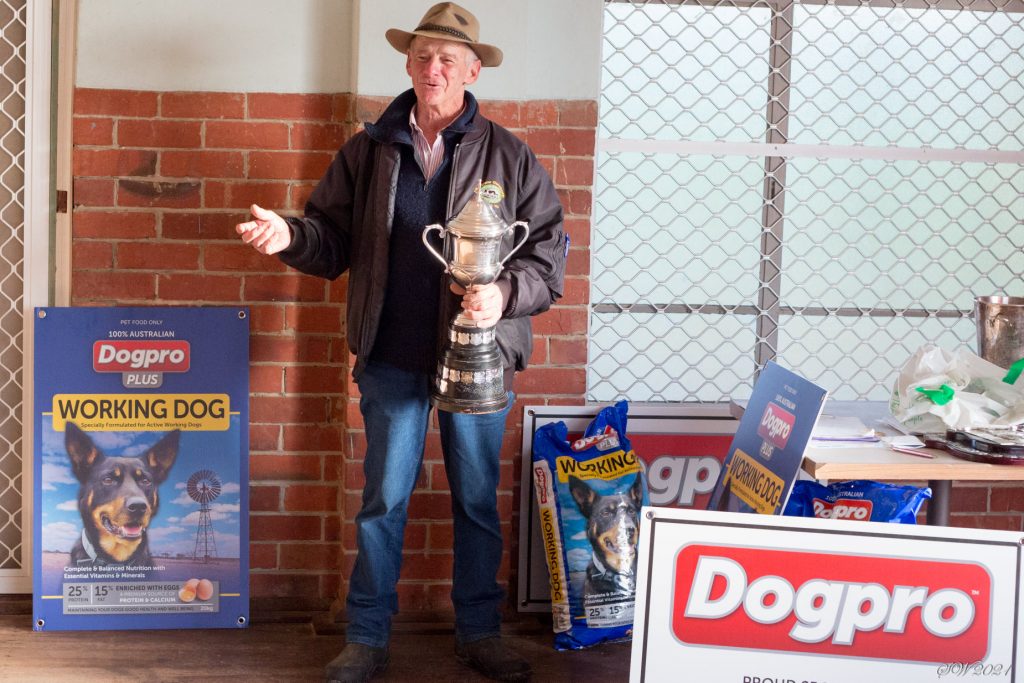 Friday was wet and windy. The sheep deteriorated as the day wore on and became more difficult to work. They were touchy and could run very fast.
On Saturday the weather eased a little but was still cold with some wind and rain.

Sunday however the bad weather was back, with strong winds and heavy showers. The sheep became even more difficult to work.

It was cold and miserable and most people were wondering what the heck they were doing at a sheep-dog trial.

However there was a delicious buffet meal on Saturday night at the Ballidu Hotel, and along with a few drinks, this helped bolster most people.
There was a tie in the open, so there was a run-off between Gordon Curtis's Kelpie Whites Joe, and Peter Gorman's Border Collie Coshies Dusty.
Peter won the event after Gordon retired in his final run.
Despite the conditions it was an enjoyable three and a half days of trialling.
In the Novice there were 19 scores from 47 runs. The Improver had 25 scores from 51 runs and in the Open there were 29 scores from 73 runs.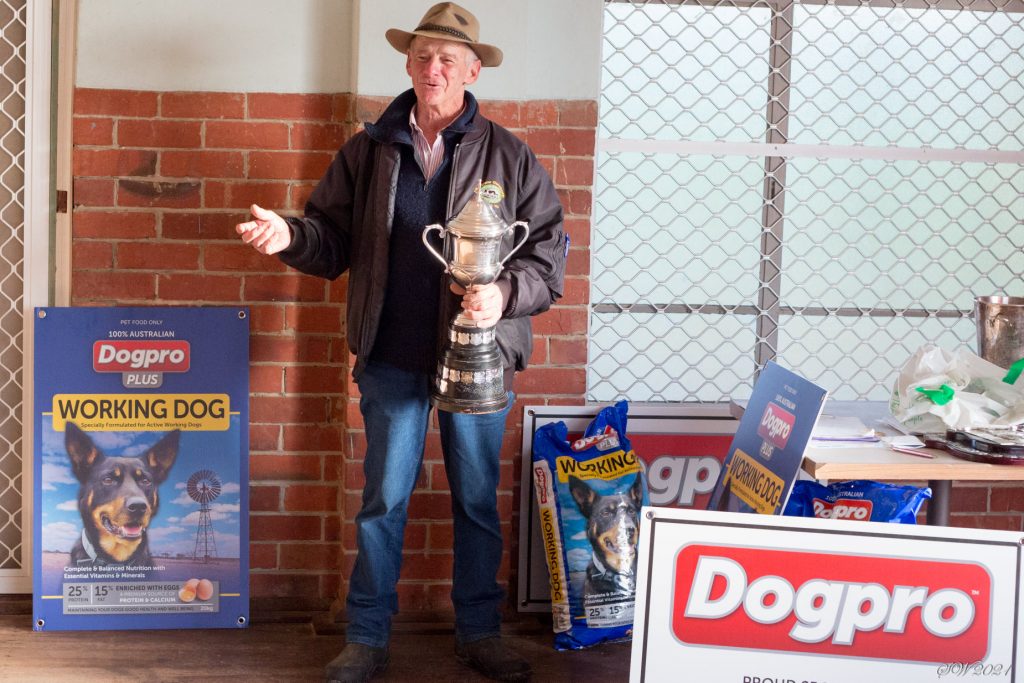 Encourage Placings
Judged by Frank Sutherland
| | | |
| --- | --- | --- |
| 1 | Tara Herbert | Marionvale Tess (K) |
| 2 | Sarah de Bueger | Marionvale Possum (K) |
| 3 | Nicole Ford | Dryandra Thunderstruck |
Novice Placings
Judged by Peter Doherty
| | | | |
| --- | --- | --- | --- |
| 1 | Rod Forsyth | Grassvalley Hazel | 90 |
| 2 | Nan Lloyd | Kumbark Lexie (K) | 86 |
| 3 | Grant Cooke | Nolans Drake | 81 |
| 4 | Peter Gorman | Badgingarra Sir Ben | 79 |
| 5 | Marianne Rogers | OK Anwenelle | 72 |
| 6 | Gordon Curtis | Kumbark Scotty (K) | 71 |
| 7 | Tara Herbert | Marionvale Tess (K) | 68 |
| =8 | Len Morton | Perangery Maudie | 67 |
| =8 | Jenny Nolan | Nolans Nitro | 67 |
| 10 | Tony Boyle | Boylee Pickles | 64 |
Improver Placings
Judged by Len Morton
| | | | |
| --- | --- | --- | --- |
| 1 | Peter Gorman | Pendalup Cloudy | 91 |
| 2 | Andrew Gorton | Olboa Mae | 88 |
| =3 | Nan Lloyd | Kumbark Ace (K) | 79 |
| =3 | Simon Leaning | Marionvale Di | 79 |
| 5 | Peter Gorman | Badgingarra Sir Ben | 78 |
| 6 | Tara Herbert | Marionvale Tess (K) | 75 |
| 7 | Jenny Nolan | Nolans Jedda | 73 |
| 8 | Carolyn Bell | Bellview Tug | 71 |
| =9 | Ken Atherton | Ramulam Charlie (K) | 70 |
| =9 | Rod Forsyth | Grassvallley Hazel | 70 |
Open Placings
Judged by Dave Lacey
Open Final
Judged by Grant Cooke
| | | | | | | |
| --- | --- | --- | --- | --- | --- | --- |
| 1 | Peter Gorman | Coshies Dusty | 88 | 87 | 58 | 233 |
| 2 | Gordon Curtis | Whites Joe (K) | 92 | 83 | Ret | 175 |
| 3 | Tony Boyle | Boylee Sugar | 88 | 84 | | 172 |
| 4 | Andrew Gorton | Olboa Mae | 88 | 75 | | 163 |
| 5 | Simon Leaning | Marionvale Di | 89 | 73 | | 162 |
| 6 | Simon Leaning | Marionvale Lad | 79 | 78 | | 157 |
| =7 | Gordon Curtis | Kumbark Scotty (K) | 80 | 66 | | 146 |
| =7 | Simon Leaning | Marionvale Andy | 76 | 70 | | 146 |
| =7 | Steve Wallace | Gibsons Sweep | 77 | 69 | | 146 |
| =10 | Neil Kristiansen | Pendalup Sambo | 89 | 51 | | 138 |
| =10 | Frank Sutherland | Pendalup Sue | 79 | 59 | | 138 |
| 12 | Nan Lloyd | Kumbark Ace (K) | 76 | 59 | | 135 |
| 13 | Ken Atherton | Ramulam Fella | 76 | 49 | | 115 |